Credit unions have relied on CUES eVote for over 20 years. It's time to turn your election stress into success with this highly secure, easy-to-use online electronic voting and survey solution featuring:
An election process that promotes greater turnout, greater convenience, and greater peace of mind

Hybrid elections offering paper, phone, mobile and online balloting

Concierge service from a dedicated election manager who will personally help you every step of the way

Optional early set-up feature; put eVote on retainer and we'll set your election up in advance, executing only if needed, helping you stay prepared.
Don't just take our word for it:
"The use of CUES eVote has significantly improved our annual election process. The online voting portal is easy to implement and very member friendly. We have seen increased member participation on our elections thanks to CUES eVote and we couldn't be more pleased with the support we receive from CUES throughout the whole election process."
Maria Eugenia Garcia-Lopez
Vice President of Marketing & Member Experience
Bank-Fund Staff Federal Credit Union | Washington, D.C.
Assets: $6.5 billion
"Cornerstone, Horizon & Plainsview credit unions contracted CUES to conduct our membership vote for our upcoming merger. This was the first time a large number of our members had participated in an electronic voting process for credit union business. CUES was amazing to work with. They kept us well informed of the process from the very beginning and did regular check-ins throughout to ensure we stayed within our timelines. The membership vote was very successful with no issues at all. I highly recommend CUES eVote!"
Carissa Yaholnitsky
Executive & Governance Coordinator
Cornerstone Credit Union | Yorkton, Saskatchewan, Canada
Assets: $914 million
"DUCA Financial Services Credit Union has been using CUES eVote for 12 years, and we turn to the service each time we need an election. CUES staff is always helpful and responsive, plus CUES eVote offers an excellent platform that's easy for our members to use. We feel it's very important for us to have an arms-length, third party resource collecting and tallying the votes—it offers a level of professionalism and security we have come to count on."
Doug Conick CPA, CA
President/CEO
DUCA Credit Union | Toronto, Ontario, Canada
Assets: $1.6 billion
Credit unions have relied on CUES eVote since 2003. Here are the top reasons you should elect CUES eVote, too.
We're with you, every step of the way. CUES dedicated election manager is on hand to personally handle set up, and answer staff and member questions once the election is under way.

Your election, your way. Your bylaws, your timeline, and your members are all considered in creating your election. Plus, CUES eVote is highly customizable—choose paper, online, or hybrid balloting.

CUES eVote set up is speedy. We can have your online election up and running in as little as 30 days.

You can preplan. The flexibility of CUES eVote means you can set your vote or survey up in advance, and execute it only if needed. This takes the stress out of last-minute applicants for petition.

CUES eVote is safe. The state-of-the-art platform utilizes security features that prevent election fraud, including end-to-end encryption and regular security audits.

We'll help increase voter turnout. We offer a variety of ways to communicate about your election with your members and get them involved, including sign-on with online banking, next notifications, and more!

You'll be in good company. CUES has offered eVote since 2003, conducting hundreds of credit union elections in that time.

CUES eVote saves your staff time, and takes the stress out of elections. Turn your election over to eVote, and we'll take it from there. We can handle everything—and we mean everything—relating to your election.

It's easy for your members to use. CUES eVote features a highly intuitive voting platform.

CUES eVote includes valuable director training tools. This unique director education feature helps your board members take on their role with confidence.

More than just board elections. CUES eVote can also handle merger and bylaw votes, and membership surveys.
Frequently Asked Questions
When you're deciding on an online election or survey provider, it's important to closely consider your options. Here are some questions you should be asking, and reasons why you should turn to CUES eVote.
Where will you turn for answers to your questions?
CUES eVote includes full-service concierge assistance! CUES' election manager is just a phone call away, ready to personally help you through the entire process.
Can I preplan my election?
Yes, by putting CUES eVote on retainer! The flexibility of CUES eVote means you can set your vote or survey up in advance, and execute it only if needed. CUES can complete the following steps, then wait for your go-ahead:
Develop a customized vote, timeline and secure login process
Set up and review the trial voter list
Set up and test the voting site
The best part is, if you do need your vote, the set-up fee goes toward the cost of the full-service election.
Is the provider's encryption level secure enough? Can you guarantee one vote per member?
Yes, and yes! Our partner has delivered elections worldwide for over 30 years. The platform has end-to-end encryption and undergoes rigorous security audits annually to ensure the integrity of your election.

Are my members engaged enough to vote? What can I do to encourage them?
We offer a variety of ways to communicate about your election with your members and get them involved. Also, be sure to download Three Steps to a Successful Election for additional tips.
Tell me more about the director education feature.
Once you have your board established, turn to these director educational resources, included with CUES eVote:
Online training courses
An online discussion and Q&A forum
A subscription to the award-wining Credit Union Management™ magazine
Discounted in-person educational opportunities
A library of documents provided by peers to save board members time
Top Three Successful Election Tips
Download this PDF and uncover three important tips on how to hold a safe, secure, and successful online board election. With 19 years of experience and 375 elections under our belt, CUES eVote is excited to share our expertise with you. Please fill out this form, and we'll email your article shortly.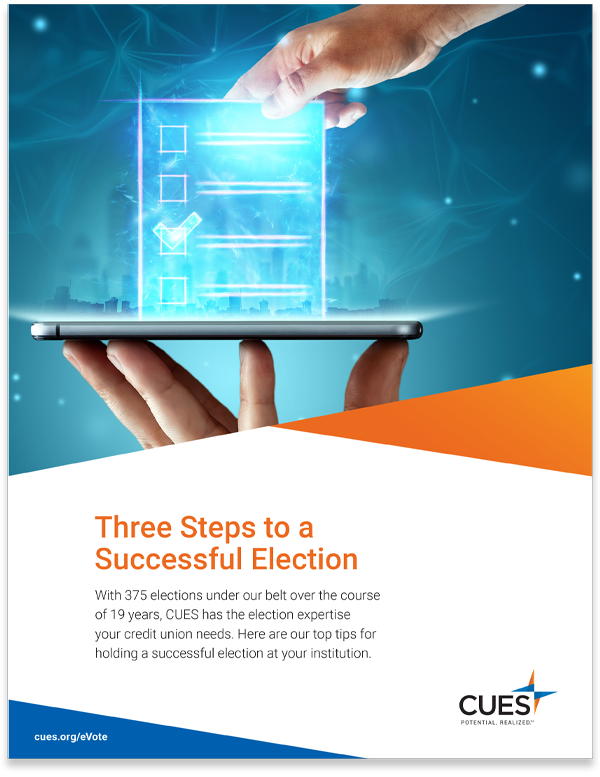 Contact us for your free needs assessment
Complete this form, email cues@cues.org or contact Brian Cacic, CUES member engagement/sales manager, at 800.252.2664. In Canada call 604.347.7097.